Our Washes
At Grand Prix Carwash, we make sure your vehicle is cleaned on-time and to your satisfaction. And if we miss a spot, simply tell us and we'll make sure it is taken care of. We offer you quick, full service washes and full detail services.
*Note: Prices vary slightly in geographic locations. Please contact your favorite location for current pricing.
Full Service Washes:


Our Original Wash! Includes: Soft Cloth Wash - Vacuum Interior - Empty Ashtrays - Hand Dry Exterior - Clean Windows - Wipe Interior Dust Free - Clean White Walls

Protect your car's finish with our Deluxe Full Service Wash plus: Clear Coat Conditioner/Protectant - Undercarriage Wash/Rust Inhibitor - Fragrance - Triple Foam Polish

Includes everything from our Protect & Shine Package plus: Wheel Brite Cleaner and Tire Shine Application

Includes everything from our Wheel Express Package plus: Interior Leather Creme - Dashboard - Door Panels



Restores your car's natural luster and shine with a hand applied quality wax. Includes our Deluxe Wash and tire shine.

All vents and crevices are cleaned with compressed air to remove unwanted dust and build-up. All vinyl and leather is cleaned and conditioned with our superior vinyl/leather creams.


Heavy spots are pre-treated before all carpets and mats are professionally steam cleaned.

Heavy dirt areas are pre-treated before all upholstery seats are professionally steam cleaned.
Express Washes: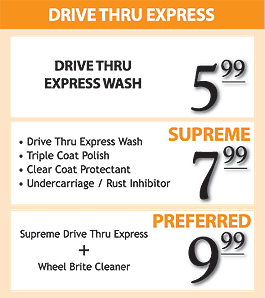 Can't read it? View larger menu.